Wills, Trusts and Estates
It is important to properly plan your estate succession in advance. It's not a topic anyone likes to discuss, but as Benjamin Franklin said, "an ounce of prevention is worth a pound of cure." Families have a hard enough time dealing with death, without worrying about whether an incomplete estate plan will delay their closure. Whether your estate plan requires a last will and testament, revocable living trust or other planning documents, we are here to help ensure your loved ones are not burdened with the troubles of an incomplete plan. When was the last time you went to your doctor for a physical? Estate planning is something that may change over time. Call and schedule your estate plan checkup today.
Our Attorneys and Staff are Available to Consult with you.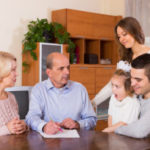 The attorneys and staff and Law Offices of Oates & Oates have been helping families in South Florida plan their estates since 1978. We would be pleased to meet with you to see how we might help in your planning efforts. We routinely consult with prospective clients by phone. Call the office today and ask to speak with someone about how we might be able to help you and your family with your probate needs.
Frequently Asked Questions
This is a highly individualized question. There are some benefits such as the ability to avoid probate and to provide provisions which have a more lasting effects such as distributing wealth to beneficiaries over time. There are some drawbacks as well. The only way to properly discuss the answer is to sit down with an estate planning professional.