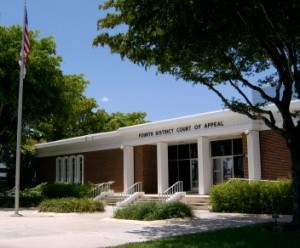 The 4th District Court of Appeals, covering Broward, Palm Beach, St. Lucie, Martin, Indian River, and Okeechobee Counties, has ruled on a long standing disputed point of law in Broward County. The question:
Whether a tenant claiming a defective or non-existent three-day notice is a residential eviction is required to tender undisputed rent into the court registry as set forth in Florida Statute § 83.60(2) in order to defend the action based on the defective or non-existent three-day notice.
The ruling: "We answer the question in the affirmative and affirm the decision of the County Court." Myron Alphesus Stanley, Jr. vs. Quest International Investment, Inc., 2010 WL 4861722 (Fla. 4th DCA 2010).
The issue came about when a Landlord filed an eviction and three day notice using a form eviction complaint containing errors and omitting certain required information. The tenant thereafter filed a timely motion to dismiss, or in the alternative, motion to determine rent, but did not deposit the undisputed rent into the court registry as required by § 83.60(2), Florida Statutes. Broward County Court Judge Lee entered a default against the tenant for having failed to post the undisputed rent into the court registry and this appeal was filed.
The 4th District made their ruling on the basis that the plain language of § 83.60(2) required the posting of unpaid rent to the court registry as a prerequisite to any defense other than payment. The Court declined to follow the Appellant's argument that a proper three-day notice is a condition precedent to filing an action for possession of property. The Court was mindful of the public policy issues raised by the tenant, however left policy making to the legislature and felt its only obligation was to follow the plain meaning of the law.
This is a win for landlords, who until now have been subject to different interpretations of the current law, depending on which judge was randomly assigned to the eviction. It is important to note that there are still other issues which remain for landlords who prepare and file their own evictions. The services of a competent and knowledgeable attorney are still the best way to avoid problems with an eviction. This ruling does not change the long standing law that a tenant is entitled to recover its attorney's fees and costs from the landlord for an improperly filed eviction.